Hello everyone! It's a pretty fun week for me!
We ended the month with a small original/fanart for halloween/costume party day! I drew Haru and Bell (I miss them ahhh) and used this opportunity for a Cookie Run fanart: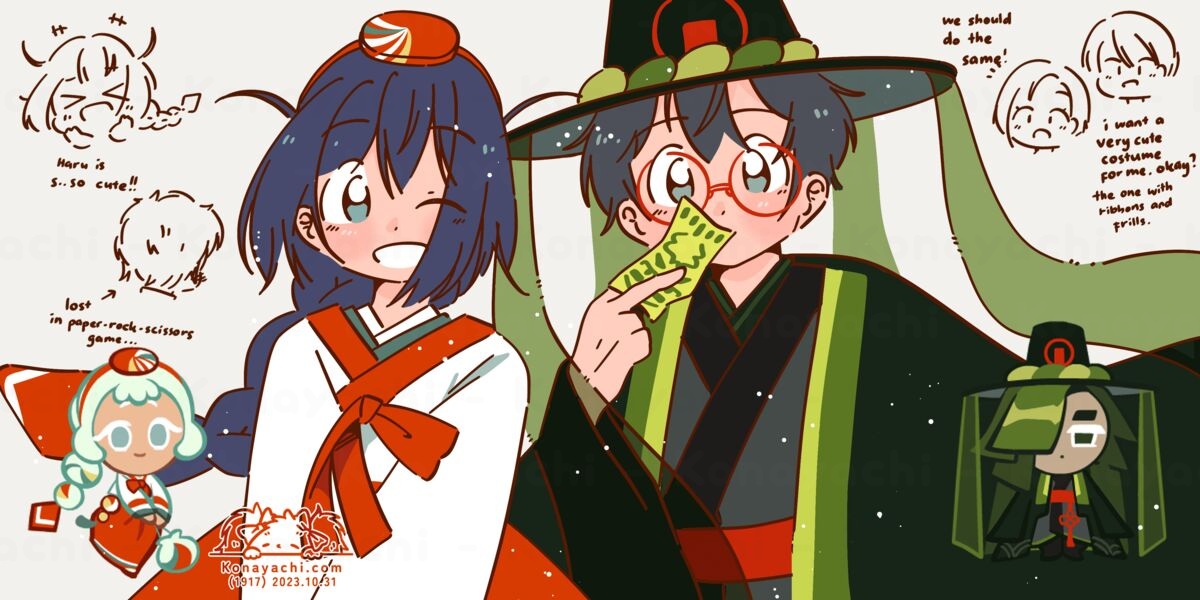 It's more doodle-like and less of an illustration. The intention is purely for fun and nothing I'd put hours into. Even so, they ended up super cute, I love them so much! Wah! ;w;
Nove Jam also started on the first! I didn't have much plan besides of doing what I feel like doing. I do have sketches and visions of what I want to make (a completely silly VN) but somehow I started this toxic "What if I added this? That?" cycle – I need to hold it under control haha.
So far I've written several thousands of words! It's rather fast, since I did lots of brainrot brainstorm for Mrs. Peregrine universe. I also already implemented the textbox and the quick menu buttons... A very weird step, I know! But I've made them almost fully during sketching phase the days before so I figured I could get rid of this task early on.
I also started to master Maple's sprite; and I'm thinking to do multiple angle of Maple's perspective, thinking it would probably help me reconsidering some CGs. If I can reconsider some CGs with multiple Maple sprites, that would make the artist's load easier! (The artist is me hahaha ;;)
I hope to do my best for Mrs. Peregrine project! Hahaha.
Other things:
Listening to: Where's the Truth - FTISLAND (the entire album) – I've never skipped a song from this band, they're amazing! I think they will be Mrs. Peregrine's making + commission works bgm as I'll listen to this album for the entire month hahaha.
Reading: I Spy A Married Life; I'm still very early but I absolutely love Dodam's facial expressions... lmao.
Watching: The Eden of the East; it's really original and interesting!!
Playing: Cookie Run OvenBreak (I only run a little bit haha; work stuff is somehow more fun that I'm not needing game breaks any more!)
Others: I guess it has been really fun recently? I don't know, everything is so nice that I want to keep doing the things I've been doing!
Thank you very much for reading!
- Konayachi