Weekly Summary 2023/29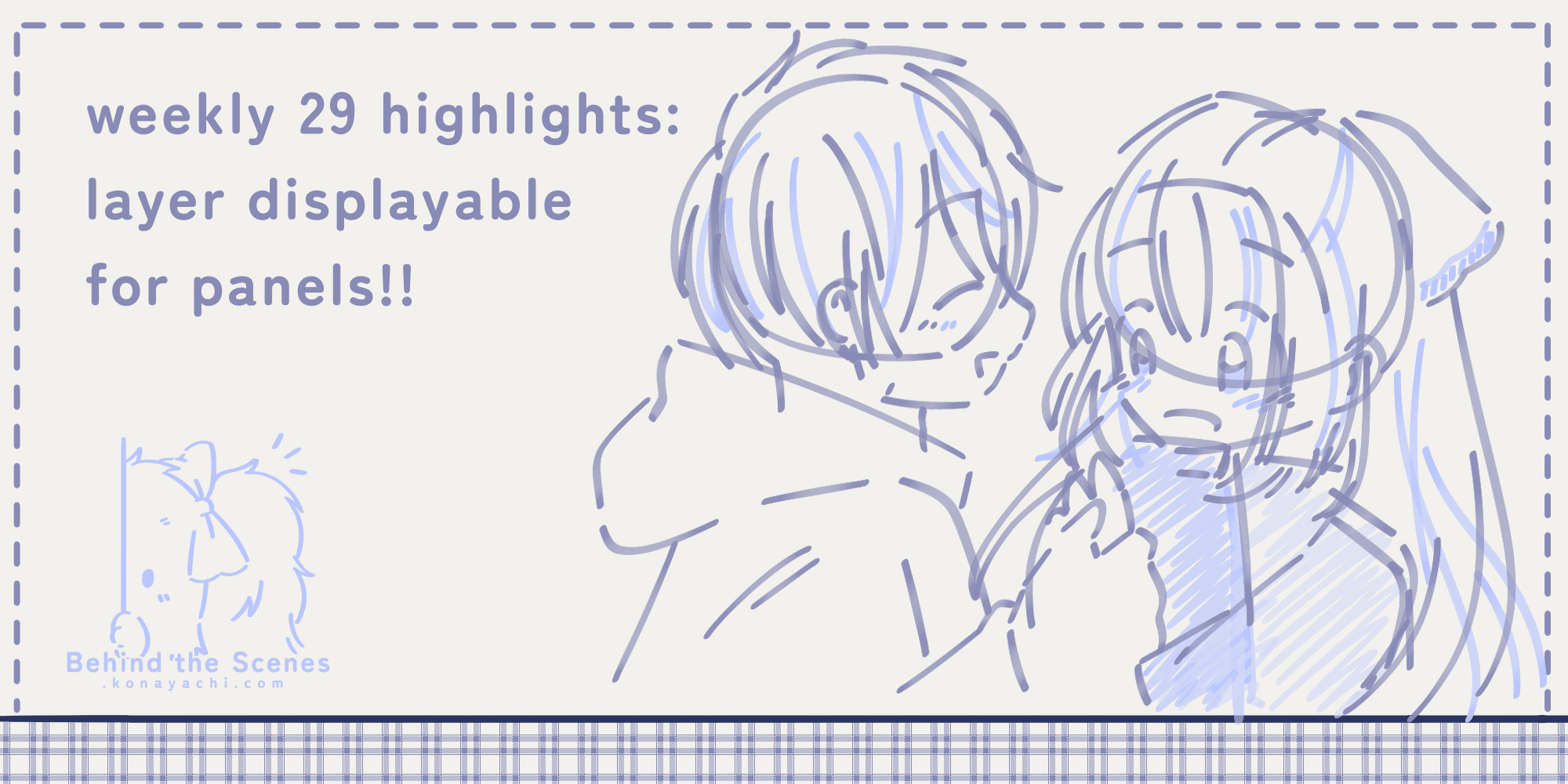 Hello everyone! This is the 29th weekly summary of the year. I hope you've been doing well!
This week I did lots of scripting for Blooming Chimes! It's an interesting approach! Details below:
Blooming Chimes progress

Writing: Only a little bit rewriting of a small scene to match the flow of the visual!
Programming: I learnt how I can do panelling without redrawing special sprites for it most of the days this week! (1812, 1813, 1814) I don't need to create so many custom sprites, I can use my default sprites to make as many panels as possible! This is very exciting!
Audio: N/A.
GUI/UX: N/A.
I randomly worked on one of the Blooming Chimes' winter scene. It's a very interesting scene I'd like to see it in action early!
I also tried to doodle some new faces for the sprite but they don't seem to be very similar to the original sprites. So... For more facial expressions, I have to work around the original face of the sprites instead of drawing from scratch again.
Oh! I almost forgot! I broke Blooming Chimes' build completely on Saturday (1809) ;o; I pressed Change/Update GUI menu on the Ren'Py menu and it broke the build completely. I didn't want to spend too much time on troubleshooting so I just created a new build and carry all the contents to the new build, set-up new git extension branch and made sure that all works well before continue my work.
Other things
O2A2 2023 started! I drafted a few outlines but I'm not fully happy with them yet. It's supposed to be a low-pressure jam so I won't put full time on it and will still work on Blooming Chimes most of the time. If I come up with an outline I love, I'll turn it into an entry if the time suffices. If not, then we'll move on! I think I just discovered a weakness of mine: I cannot write short stories. XD
This week's playlist is ZARD! Especially いつかは (Someday):
Baby Baby don't you cry
静かな夕暮れに
残された日々 夢を見させて
どんなに時間を縛ってもほどける
あとどれくらい 生きられるのか
Small announcement
I've decided to no longer send weekly summaries in email! I'll send emails about project release and resources that I write instead; which will be more rare. I hope it will be higher value and quality for the emails that I'll send to everyone!
As usual, thank you for everyone who's joining me here this week! I hope your weekend will be lovely. Take care!
- Konayachi