Weekly Summary 2023/24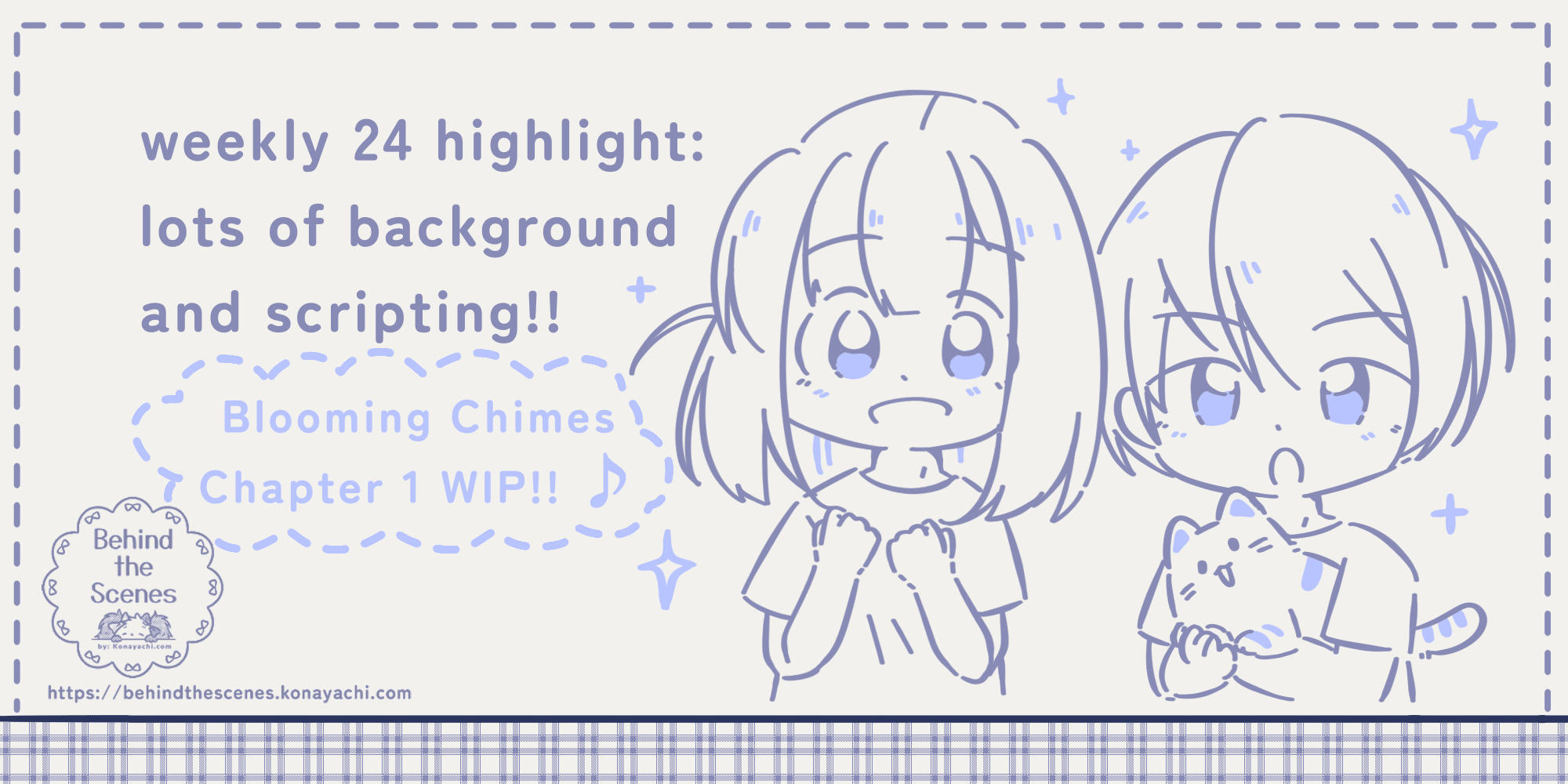 Hello everyone! It's the 24th weekly summary of the year~! 2023 is halfway, how are you doing so far? Life has been going, hasn't it?
I'm in the final two weeks of Otome/Josei Jam, and I'm still working on Blooming Chimes Chapter 01/04. In the past 5 weeks I'm doing lots of experiments and works that are potentially to be thrown away but it doesn't make me sad or angry. I feel like those 5 weeks are very valuable; it has been configuring my brain to figure out my very-chaotic workflows to be not-as-chaotic workflows. I feel like I'm much more productive this week than the past 5 weeks. It's an amazing feeling!
Blooming Chimes progress
I'm doing lots of scenes and optimisation this week. Background drawing, scripting and testing: these three occupied most of my days. I've been having lots of fun. I think VN is my life-call hahaha.
This week I did lots of Ozzy and Bell scenes, it convinces me more that Ozzy has to be Bell's second LI. I don't know – I'm in a big dilemma. On one side, Blooming Chimes is written in kinetic way. I'll have to see how it evolves, but that's for future.
The doodle banner for this week's weekly summary post is Ozzy and Bell's childhood appearances. She's slightly taller hahaha!
Other Things
I found two more fun Webtoons that I started to read: Dating with a Tail and Mom, I'm Sorry. Both of them seem to be fantasy, comedy series. I like them a lot! If you have Webtoon app, give them a try! Quite sad about the Daily Pass system but at the same time I'm thankful for it as it allows me not to be indulged in it to the point that I stop doing anything for the day.
This week's playlist is going many years to the past: BoA's ID: Peace B! Listening to this album brings back so much memories of the past. BoA's amazing, beautiful and has catchy songs on top of all of that.
I'm getting a new drawing tablet as my current one shows signs of aging. I couldn't have days without functioning drawing tablet so I got a new one before it's too late. I'll share about it more next time after I get it and test it properly.
Thank you for everyone who's joining me here this week! I hope your weekend will be lovely. Take care!
- Konayachi