Hello everyone! ✨ We are now in the fifteenth weekly summary of the year!
It is another week full of RenPy works, so visually there isn't much to share. 😬 Should I also write about RenPy and things here as well? Things about what I learnt, what I am struggling with and so on. Probably that would be quite a nice documentation of my learning RenPy journey~
Recaps:
Art Posts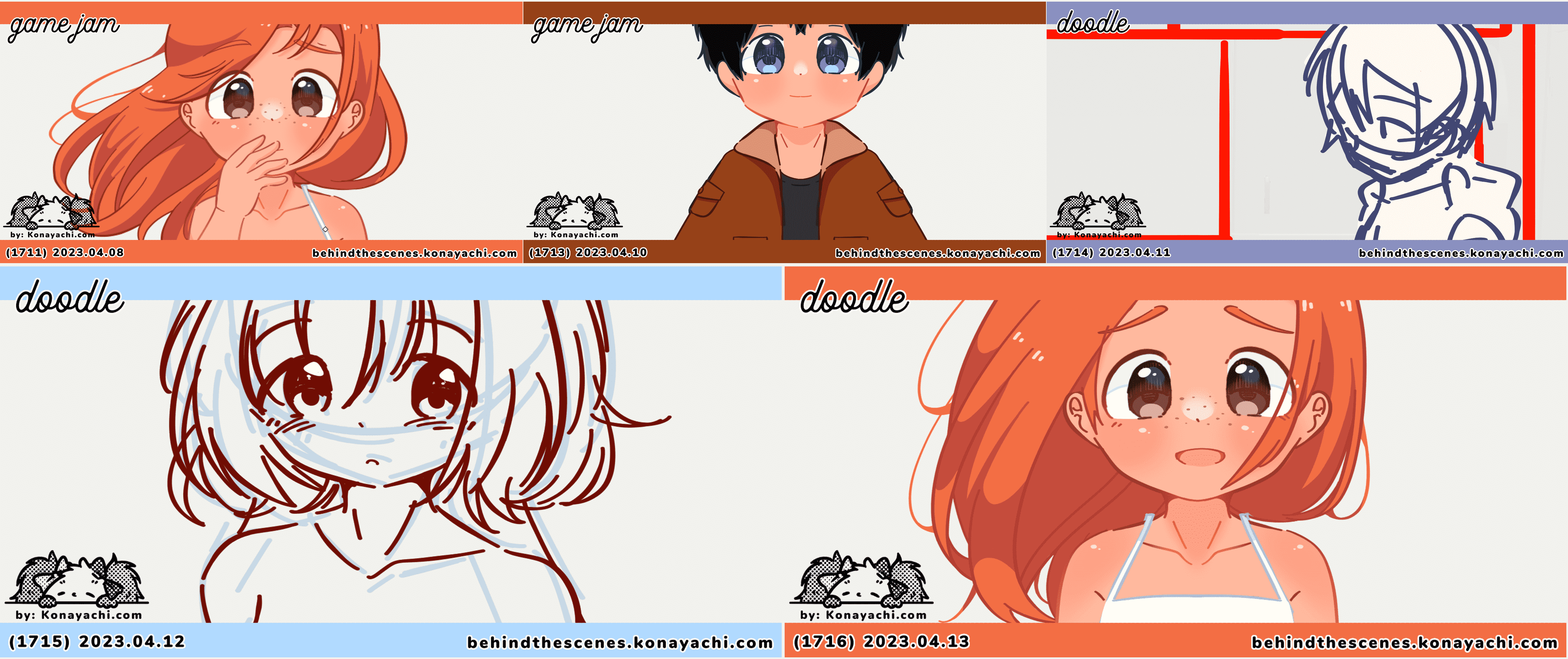 More or less, it is the same as last week. I mostly spent my time on Enigma of Hearts and RenPy. I did more RenPy than art this week, so my art posts are on the so-so side.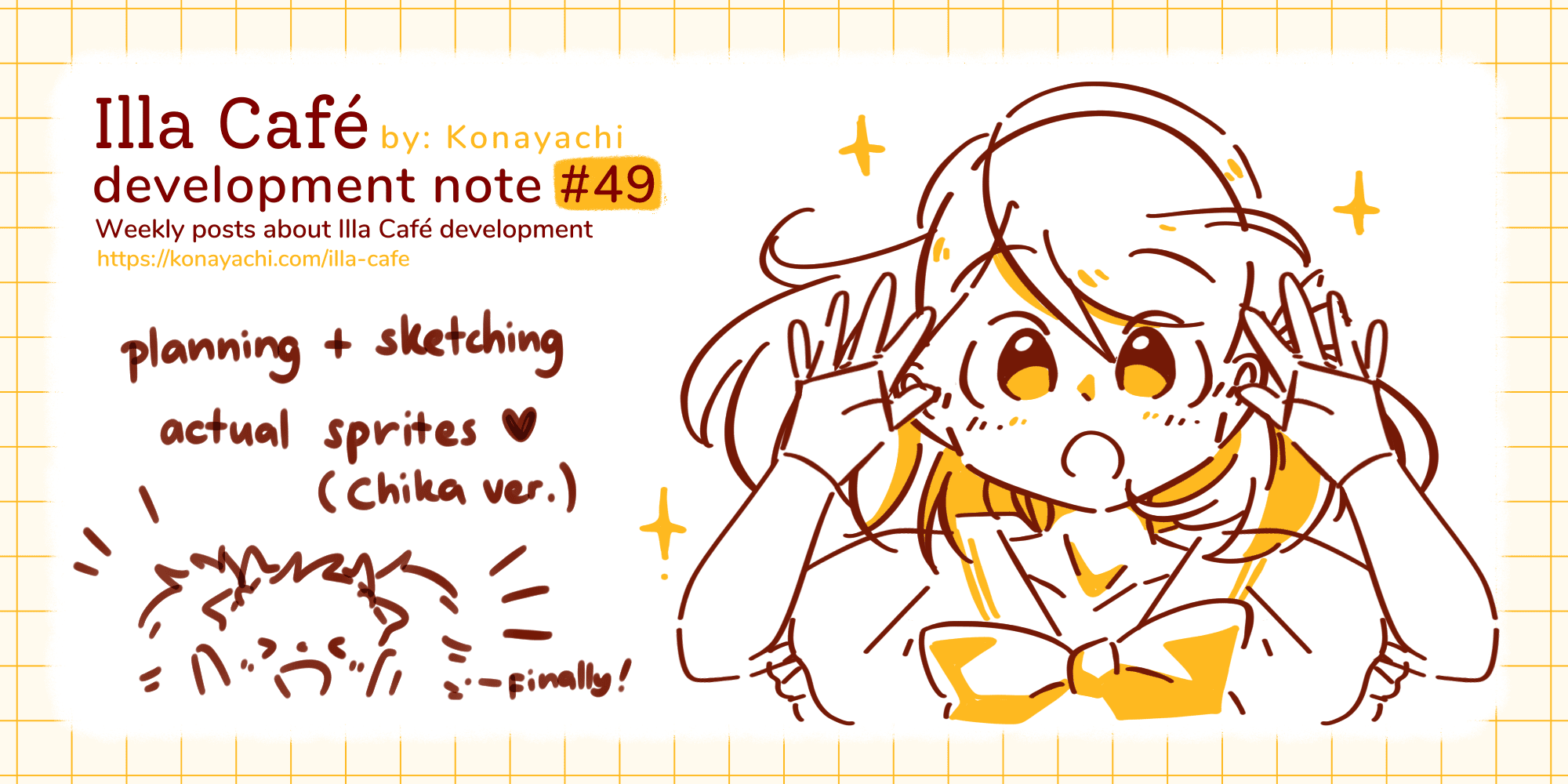 As I keep wanting to work on Illa Café even in jam periods, I ended up dedicating my Sunday for it. After doing Lily and Al's sprites, I tried to plan for actual Chika's sprite as well. In this post I talked about how I split her parts for the sprite.
Other Things
Things seem to be on a bit slower side for April Jam 2023 as I'm working on RenPy. Other than that, everything is good! Lily and Al's sprites are in, some SFXes and BGM are already inside as well.
I finalised the potential Otome Jam 2023 entry concept! I have also christened a new title for the To:You comic adaptation to it. Yay, very excited! I'll reveal it when I start working on the jam!
This week's musics are FTISLAND's JUST DO IT and some of Cookie Run OSTs, including: Lilac Cookie's theme (he's an extremely gorgeous cookie and the theme is lovely and deadly - supposedly, based on his lore), Stormy Lotus Lake theme (Lotus Dragon Cookie BreakOut theme - it shows a mixture of elegance and despair, so so good *chefkiss*), Scorpion Cookie's theme (it is very fun and mysterious, Scorpion Cookie's personality is like that as well - she hides a lot but sounds like a very fun cookie to tag with), and Fierce Yeti's Burrow theme (happy-sounding BGM for a hell stage; the dissonance is really well-done).
A small doodle I shared on Twitter: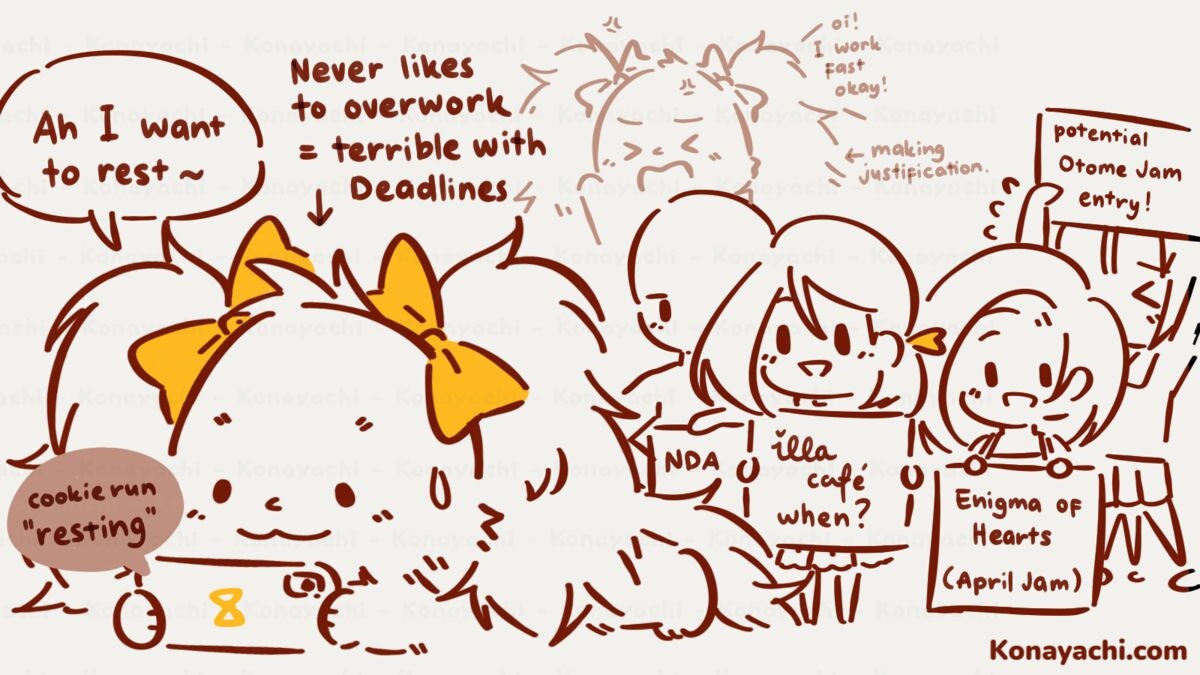 In all chaos I've been living with, basically the doodle above sums it all.
Many times I'm able to fight the procrastination temptation when I have a clear vision of what's my plan for the day. When the plan of my day is just "draw or RenPy" - that's when it gets chaotic. I don't hyperfocus, it is the opposite actually. Everything is shiny and interesting when I decided I want to focus on something.
The good thing is that I have the solution. Musics have been calming my mind in the way of making my brain gets distracted with the nostalgic songs, so my hands can work without further distractions. Speaking about musics... I'm not adventurous of it. I only listen to what I used to listen in 2010s, or OSTs of what I recently watched, or game OSTs (Cookie Run at the moment - their OSTs are amazing).
Nevertheless, I'm fueled to work more on Enigma of Hearts and Illa Café now! I also spare a little bit of energy to write the TBA potential Otome Jam entry and will share it here once my Enigma of Hearts work is closing. 😊
That's all for this week. Thank you everyone who joins me this week. Let's do our best again next week onwards! Have a good weekend!
- Konayachi